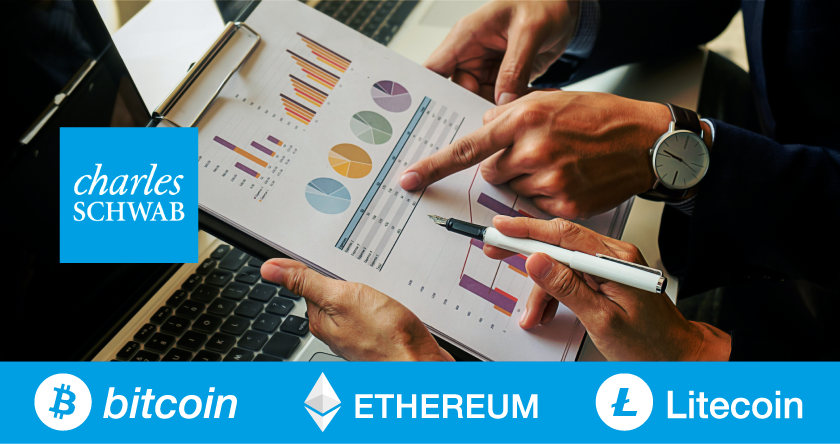 While some online brokers have jumped at the chance to get in the bitcoin business, Charles Schwab has approached the bitcoin arena timidly. Schwab has remained steadfast traditionalist by not allowing its customers to trade bitcoin in their IRA or brokerage accounts. But given its recent merger with TD Bank, Charles Schwab might be looking at a different future, one that could involve introducing bitcoin as an alternative asset for the masses.
Common Questions
1. Can I buy bitcoin with my Charles Schwab account?
Not at this time. Schwab customers cannot use their account to purchase bitcoin or any other cryptocurrency directly.
2. Does Schwab offer institutional-grade cryptocurrency services?
No. Currently there are no institutional-grade cryptocurrency services offered by Schwab, and the company has not reported that it plans to provide this in the near future.
3. How can Schwab customers get exposure to bitcoin?
Indirectly. Charles Schwab clients can get exposure to bitcoin by trading an over-the-counter ETF that holds bitcoin.
4. How does the Charles Schwab and TD Ameritrade merger affect my ability to buy bitcoin with Charles Schwab?
Uncertain. TD is close to releasing cryptocurrency trading for its clients, but it remains unclear if Charles Schwab will integrate with these services.
5. Can I buy bitcoin for an IRA with Charles Schwab?
If you want to open a Bitcoin IRA, Schwab doesn't offer investors the option to buy bitcoin for their retirement accounts through their brokerage. However, you can move an existing IRA with Charles Schwab to a Bitcoin IRA and maintain your current tax benefits without incurring any penalties.
Timeline of Schwab's Path to Adoption of Cryptocurrencies
December 2020 – Bitwise launches a crypto index fund available to Schwab customers
October 2020 – Schwab purchases shares of bitcoin mining company Riot Blockchain for their mutual fund holdings
October 2020 – Charles Schwab completes its acquisition of TD Ameritrade
August 2020 – Schwab invests in Ethereum app Alchemy
November 2019 – Charles Schwab announces its intention to purchase TD Ameritrade 
October 2018 – Coinbase adds Chris Dodds, a Charles Schwab board member, to its board of directors
History of Cryptocurrencies and Schwab
Charles Schwab and Cryptocurrencies
For years, executives at Charles Schwab consistently overlooked the cryptocurrency market.  Company executives were outspoken about their distrust of bitcoin in its early years, calling bitcoin a bubble on several occasions. When bitcoin futures began trading on the Chicago Board Options Exchange (CBOE) in 2017, Schwab hesitated to allow its customers access to these new derivatives, both in their brokerage accounts and IRA, and thus delayed their trading. Eventually, the brokerage permitted their customers to trade these futures before they were retired in March of 2019. 
Driven by the cryptocurrency demand from millennial and younger investors, Schwab began to see bitcoin as more of a mainstream investment. Around this same time, the firm started purchasing shares of Riot Blockchain, a bitcoin mining company, to allocate in its mutual fund holdings. While the purchase was small, this was the first sign of the brokerage getting exposure to cryptocurrencies for its IRA customers.
Schwab also started allowing its clients to trade over-the-counter ETFs with exposure to cryptocurrencies. The firm embraced funds like the Bitwise 10 Crypto Index Fund, which holds bitcoin, ethereum, and other cryptocurrencies and trades as an index fund. This gives Schwab IRA holders a way to get direct exposure to bitcoin without taking the risk of holding cryptocurrency.
TD Ameritrade Merger and Cryptocurrencies
In November 2019, Charles Schwab announced its intentions to purchase TD Ameritrade in a $26 billion all-stock deal. However, the US Department of Justice held up the merger due to antitrust concerns. It took almost a full year of investigation by the DOJ before the deal was ultimately approved on June 3, 2020. In October, the acquisition details were finally complete, and a new conglomerate was created with a combined $6 trillion in client assets and 28 million trading accounts.
The TD Ameritrade acquisition could pivot Charles Schwab's policy position regarding bitcoin and other cryptocurrencies. Until now, both companies have vastly different stances on handling digital assets. TD Ameritrade has allowed its users to trade bitcoin futures contracts on the Chicago Mercantile Exchange (CME) since 2018. The brokerage also holds a stake in cryptocurrency exchange ErisX, which will soon give TD customers an outlet to trade bitcoin directly on their IRA or other retirement accounts. It's likely that through this deal, TD Ameritrade users could trade bitcoin via an ErisX account.
Still, it's likely that it will take between 18 and 36 months for the technology between both companies to be fully integrated. Until then, Charles Schwab is not expected to offer its clients cryptocurrency services.
Where Schwab and Bitcoin Stand Today
Thus far, Charles Schwab has not signaled it would change its stance on bitcoin. On the other hand, TD Ameritrade has its own investment into the industry via the ErisX exchange. Its customers will likely have direct access to bitcoin and other digital assets soon. Schwab has yet to announce whether it will integrate ErisX or any other TD cryptocurrency service into its platform. Until there is more clarity around how the merger will affect Schwab's cryptocurrency offerings, its customers will have to look toward publicly traded ETFs as the only way to get exposure to bitcoin in their retirement portfolio.
Where Schwab and Bitcoin May Go From Here
Its merger with TD Ameritrade gives Schwab access to cryptocurrency exchange ErisX

Schwab board member Chris Dodds is now on the board of Coinbase, raising the possibility of a partnership between the two

Although Schwab clients cannot hold digital assets themselves, they can purchase over-the-counter index funds with exposure to bitcoin and other cryptocurrencies

By purchasing shares of Riot Blockchain, Charles Schwab might plan to add bitcoin exposure to at least one of its new or existing mutual funds