Note: BitIRA does not currently offer Chainlink IRAs, though it may in the future. Currently, other crypto IRA types are available.
After several years of flying under the radar, Chainlink has quickly become one of the most well-known cryptocurrency projects in the industry. This Ethereum-based network helps to bring real world data to blockchains for use in executing smart contracts. With its recent rise to prominence, it might be time to start considering Chainlink for your IRA.
LINK vs. BTC and ETH
Both BTC and ETH are native cryptocurrencies on their own blockchain networks. This means both cryptocurrencies are utilized as economic incentives to keep their networks secure. LINK is different in that it is not a native cryptocurrency on its own blockchain network. Instead, LINK is a token built on top of the Ethereum blockchain. Without a network of its own, it relies on the Ethereum blockchain to enable security and transparency for transactions and smart contracts.
Investing in LINK With a Chainlink IRA
Chainlink's ability to merge on-chain security with off-chain data makes it a valuable cryptocurrency. This will only be aided by the continued growth of DeFi and other blockchain-based industries that require accurate, trustworthy off-chain data to succeed. Although BitIRA doesn't offer a Chainlink IRA, the option may become available in the future. And if it does, LINK could add to the already great returns produced by BitIRA investments. In 2020 alone, every dollar invested via BitIRA grew by 297%.
To take advantage of a Chainlink IRA if it becomes available, you can start by opening an SDIRA.
Why Open an SDIRA?
Not all retirement accounts allow you to hold alternative assets like cryptocurrencies. But luckily, SDIRAs do. Compared to a conventional IRA, a Self Directed IRA (SDIRA) offers you complete control and autonomy over your retirement nest egg. Most conventional IRAs limit investments to specific assets like stocks, bonds, and mutual funds, but don't offer the ability to invest in other asset classes. Alternatively, an SDIRA lets you choose from almost any asset you want to include in your retirement account.
Because SDIRAs give you complete autonomy over your investments, it's up to you when to buy, sell, and trade the assets in your SDIRA account. But this doesn't mean you have to be alone in your retirement planning. While BitIRA is not a custodian, we recommend working with a trust company like Equity Trust Company or Preferred Trust Company as your SDIRA custodian. A trust company will make all necessary disclosures and handle tax-related and administrative details on your behalf.
You can use your SDIRA to purchase cryptocurrencies and get all the benefits of a retirement account along with the investment opportunities of digital assets. An SDIRA lets you:
If Chainlink becomes available through BitIRA, purchase the cryptocurrency for your retirement savings. This is in addition to other digital currencies like Bitcoin and Ether.
Combine your cryptocurrency holdings with other assets. An SDIRA lets you hold cryptocurrencies alongside precious metals, stocks, bonds, and many other assets in one retirement account.
Invest on your own, without being alone. You can have complete control over your investments while still working with a custodian to help manage the administrative and tax details for you.
Diversify, diversify, diversify. Your retirement portfolio can never have enough diversification. Diversification is proven to reduce portfolio risk while still capturing returns, and alternative assets are a great way to diversify your portfolio. As a result, 79% of institutional investors have some part of their portfolio allocated to alternative savings, with 58% invested in more than one alternative asset class. An SDIRA allows you to diversify your holdings in any asset class of your choosing, thereby increasing your return potential and hedging against any type of risk.
Security against theft. Investing in cryptocurrencies might seem daunting, but investing via BitIRA's solution means you are protected with a secure, fully insured SDIRA. BitIRA's solution provides enhanced security measures like multi-encryption, multi-factor authentication, and cold storage to protect against account theft. And, if there were to be any adverse event (except for market movements) that caused a loss of funds, whether it's hacking, embezzlement, or an earthquake, you are fully protected with $100 million end-to-end insurance coverage on your account. This automatic prudence is built directly into every BitIRA account, no matter the balance.
What is Chainlink?
To execute smart contracts, blockchain networks turn to oracles – data feeds that connect real world information to blockchain networks. But centralized oracles introduce new problems to decentralized networks. They rely on singular sources of data prone to attack from hackers and susceptible to relaying incorrect information back to the blockchain. 
Chainlink is a network of decentralized oracles that connect real world data with blockchain networks. This way, smart contracts can source off-chain data in a decentralized manner. Because Chainlink is deployed on the Ethereum blockchain, it can be utilized for any Ethereum-based decentralized application and can work across blockchain platforms as well. When someone requests off-chain data, they send a request to Chainlink, which then matches the request with the appropriate oracles to provide the relevant information, and aggregates the data to approach the most accurate result.
This occurs in a multi-step process:
SLA – A service-level agreement (SLA) is drafted by the Chainlink user to specify what data needs to be retrieved. 

Oracle selection – Chainlink matches the SLA with the oracles capable of providing the solicited information.

LINK deposited – The user submits the SLA and deposits LINK as payment for the contract. 

Bids – Oracles bid for the contract.

Data collection – After oracles are selected, they connect with external data sources to obtain the requested information and send it back to contracts on the blockchain.

Data aggregation – All data obtained by the oracles is collected and aggregated, with a weighted score given based on the validity of the data and the reputation of each oracle. The results are sent to the user.
For instance, say a smart contract was to trigger based on the exact temperature in New York City at a specified date. Instead of relying on a single source to impart the temperature data, Chainlink would utilize multiple oracles to aggregate the most accurate temperature data and relay this information back to the smart contract.
But what if oracles want to trick smart contracts by providing incorrect data? Luckily, Chainlink created its own token to generate proper economic incentives so that oracles would always act in the network's best interest.
The LINK Token Has Exploded in Value 
LINK is an ERC-20 token built on the Ethereum blockchain. The LINK token is used to incentivize oracles to provide accurate data back to the platform for triggering smart contracts. Oracles that deliver accurate data are rewarded in LINK tokens for their work. 
There is a total of 1 billion LINK tokens that were originally minted with the following breakdown:
35% sold via public sale

32% allocated to node operators

30% held by the Chainlink development team
After holding its initial coin offering (ICO) in 2017, LINK began trading on the open market. But the cryptocurrency didn't get noticed until 2019 when it started to gain ground in the industry. By the end of 2019, LINK had gone from $100 million in value to $650 million, and a price of $1.80. 2020 was the breakout year for LINK, as it became a top-10 cryptocurrency, surpassing $6 billion in market capitalization and reaching a peak price above $18.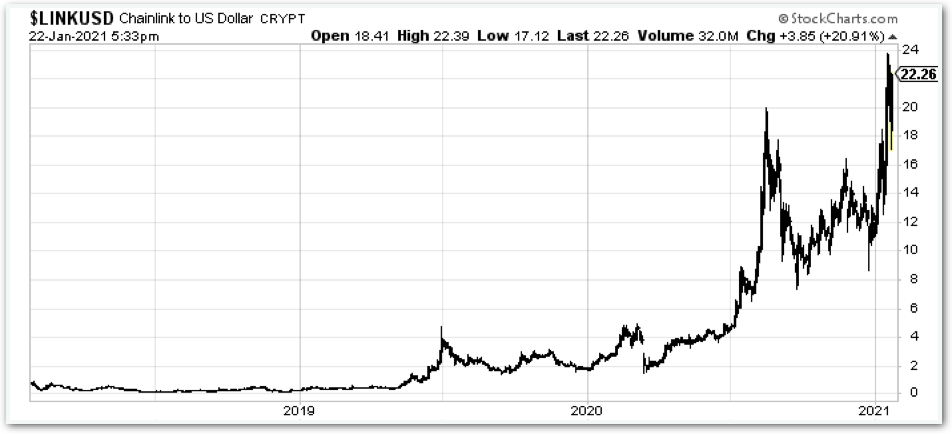 One reason LINK has the potential for even more growth is because of the decentralized finance (DeFi) industry. Oracles are an important piece of infrastructure in DeFi products as they impart real world pricing information necessary to update and execute DeFi smart contracts. DeFi contracts rely on accurate pricing feeds from off-chain markets to supply peer-to-peer financial products.
BitIRA doesn't currently offer a Chainlink IRA, but does provide a variety of other cryptocurrency-based SDIRAs. If at sometime in the future a Chainlink IRA is offered by BitIRA, it can be an excellent cryptocurrency option to add to your retirement savings portfolio, providing another outlet for strong returns on your retirement savings. Be among the first to know when a Chainlink IRA becomes available through BitIRA by subscribing to our newsletter or contacting a Digital Currency Specialist today.