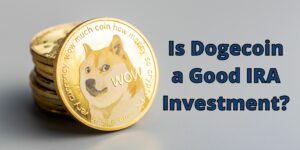 The digital world has birthed a new and strange phenomenon: memes. While many believe that memes are nothing more than a joke, the value of memes is continuing to grow. Dogecoin has monetized attention from the use of a meme to represent its cryptocurrency, providing a unique angle in the world of digital currencies. While it has been around for several years, Dogecoin has recently risen to the ranks of one of the most well-known and valuable cryptocurrencies on the market. This begs the question: is Dogecoin a good investment for your IRA?
What is Dogecoin?
Dogecoin (DOGE) is a meme cryptocurrency created in 2013 by Billy Markus and Jackson Palmer. Both Markus and Palmer devised Dogecoin as a joke to parody the increasing valuations within the cryptocurrency market. The digital asset is based on the Doge meme picturing a Shiba Inu dog that became popular around the same time.
The Dogecoin blockchain is a peer-to-peer network on which the native DOGE cryptocurrency could be transacted. The network was designed based on two already-existing cryptocurrencies at the time, Litecoin and the now-defunct LuckyCoin. Dogecoin took much of the same technical aspects of these projects — including a proof-of-work consensus mechanism and Scrypt hashing algorithm — to get started.
To mine the Dogecoin blockchain, miners need application-specific integrated circuit (ASIC) equipment that is custom-made to mine the Scrypt algorithm. Alternatively, both GPU and CPU miners can be used to mine the blockchain with a loss of efficiency.
Recent growth
The price of DOGE remained relatively quiet for many years, like a joke that people forgot about. Then recently Dogecoin experienced a resurgence of attention. Because the digital asset is a meme coin, it is dependent on growth not from new apps or functionality but from growing popularity in the public sphere. Fortunately for the cryptocurrency, celebrity influencers like Elon Musk and Mark Cuban have voiced support for the cryptocurrency. This has helped to boost the Dogecoin community exponentially, leading to its price rise.
But even these ardent supporters still view Dogecoin as a joke. Musk has said, "The most entertaining outcome and the most ironic outcome would be that dogecoin becomes the currency of Earth in the future."
However, it appears that many people have a hard time distinguishing Musk's satire from his true beliefs and his jokes from investing advice.
Due Diligence on Dogecoin
Whenever you consider an investment for your retirement account, it's essential to perform due diligence. This includes examining all aspects of the investment, its history, and future potential. As Warren Buffet once put it, "Never invest in a business you cannot understand."
And when it comes to cryptocurrencies, due diligence is even more essential. Many of these assets are unproven and misunderstood by the general public. There's no Securities and Exchange Commission scrutinizing cryptocurrencies. There are no generally accepted accounting principles or disclosures mandated for new digital assets.
Unfortunately, when it comes to Dogecoin, the cryptocurrency specialists at BitIRA see a number of red flags:
Dogecoin does not provide any marked benefit to users as compared to other cryptocurrencies
The project does not have a dedicated team working to improve the protocol
From a technical standpoint, it may be relatively easy to attack the Dogecoin network as it lacks the computing power of other blockchains
Many meme coins — including Shiba Inu, Dogelon Mars, Mini Shiba, and others — are mimicking Dogecoin and taking market share away from the meme coin originator
The price of DOGE is highly volatile, topping out at $0.73 and a $26 billion market cap in May 2021 and falling to $0.19 just one month later
One of the most popular Dogecoin services, Dogetipbot, was out of money and went belly-up
While it's relatively easy to buy Dogecoin, there are VERY few companies working on supporting this cryptocurrency for transactions
Beware of the Doge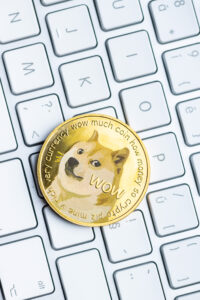 As tempting as it may be to jump on the bandwagon of the latest hot investment, it's not a great way to invest for retirement. Dogecoin still has a significant buzz around the investing world, but its lack of usefulness severely limits its potential. Most individual investors have flocked to Dogecoin without knowing how it works and its use cases. It's like the story about amateur investors who mistook the NYSE-traded company Ethan Allen (ETH) for ethereum and sent the furniture chain's stock price up 50%.
Even the cryptocurrency's co-founder Jackson Palmer has previously noted that the valuation of Dogecoin is out of whack with its real worth. "Dogecoin's valuation is the result of market mania that has resulted in inexperienced investors buying up low-priced assets on a whim, hoping that they will follow Bitcoin's meteoric trajectory,' noted Palmer.
Sure, Dogecoin might stick around for a while on the backs of social media and influencers, but it doesn't make for a solid long-term investment. So when it comes to your IRA, it's best to stay away from Dogecoin altogether and stick with more established cryptocurrencies that have relevance and utility. That's not a guarantee, though more established and useful digital assets are vastly more likely to have staying power.
There are Better Digital Currencies for your IRA
Instead of investing in Dogecoin, it might be best to look toward other digital assets for your retirement account. Make sure to do your due diligence to determine what cryptocurrencies make for the best long-term investments. Once you have identified digital assets for your portfolio, the experts at BitIRA will help you set up or rollover an existing retirement account into a self-directed IRA (SDIRA) where you can invest in digital assets.