Disclaimer: This review was completed on behalf of BitIRA.
One of the ways investors are gaining exposure to cryptocurrencies is through a digital IRA (also known as a crypto IRA or Bitcoin IRA). A digital IRA is a self-directed individual retirement account (SDIRA) that offers the option of investing in certain cryptocurrencies.
Like any other IRA, a digital IRA is administered by a custodian that administers investors' assets and ensures compliance with government rules and regulations regarding the holding of tax-deferred, retirement assets. Custodians also often provide insurance and support for transactions, though these benefits are generally paid by investors in the form of transactions or other fees. In a digital IRA, customers also have a digital wallet (under the control of the IRA custodian) that holds their cryptocurrencies.
How to compare digital IRA providers
BitIRA and iTrustCapital are two of the main players in the field of facilitating the use of retirement funds to invest in digital assets. Let's take a closer look at how these two companies stack up against one another.
One way to compare crypto IRA facilitators such as BitIRA is to compare and contrast the features each provider offers. We'll be writing this review on behalf of BItIRA, reviewing its key characteristics and how it stacks up against iTrustCapital, another well-known provider in the field.
Security
Compliance
Assets Offered and Management
Insurance
Service/Assistance
Security
Every crypto IRA account owner has a wallet where digital assets are kept safe behind a set of private keys and how each company handles those keys differs (which we compare later). Cryptocurrency itself exists exclusively on the blockchain, but the private keys are what allow crypto assets to be transferred by owners or custodians. Wallets can either be connected to the internet (hot wallet or hot storage) or kept entirely offline on a physical storage device (cold wallet or cold storage).
Hot wallets
Hot wallets are great for easy access to crypto-assets and transacting quickly, but are considered less safe since they are susceptible to being remotely hacked.
Cold wallets
Cold wallets are the most secure option and can only be compromised if the key storage device is lost, destroyed, or physically stolen by a person.
Multi-signature wallets
Ordinarily, an owner would only need their private keys if they wanted to transfer crypto-assets to someone. With a multi-signature wallet, however, two or more sets of private keys are required to transfer crypto, adding an additional layer of security to every transaction.
How iTrustCapital IRA and BitIRA Compare
Here are the key areas to compare these digital IRA providers.
Compliance
The propagation of crypto investing has led to calls for regulatory oversight, making crypto compliance key to adhering to the ever-changing regulations being imposed on digital currencies.
BitIRA compliance
BitIRA partners with Fireblocks to provide storage and security solutions for our customers.  Fireblocks is the world's first company to obtain Level III CryptoCurrency Security Standard (CCSS) certification. The Level III audit proves that its process is in compliance with advanced data authentication requirements. BitIRA is also proactive in staying ahead of the regulatory curve and was the first to voluntarily register with the U.S. Department of the Treasury as a Money Services Business (MSB) and submit itself to the government's Financial Crimes Enforcement Network (FinCEN).  We also closely monitor IRS guidelines and regulations involving cryptocurrency and digital assets so our customers won't have to worry about the complicated tax implications of trading and investing in cryptocurrency.
iTrustCapital compliance
As of May 5, 2022, iTrustCapital itself is not a registered MSB.
Assets offered and management
While BitIRA and iTrustCapital both facilitate the purchase of cryptocurrencies with IRA funds, they shouldn't be confused with custodians. IRA custodians are generally state or federal chartered financial institutions that help keep people's money safe and operate within IRS and government regulations. Since SDIRAs have more steps to set up and open than conventional IRAs, an experienced custodian is an absolute necessity.
Custodians
BitIRA customers are set up customers with Equity Trust as their custodian. Equity Trust was founded in 1974 and has decades of experience specializing in alternative assets and self-directed IRAs, making them ideal partners for BitIRA.
iTrustCapital's qualified custodian is Coinbase Custody Trust Company, LLC, a wholly-owned subsidiary of Coinbase Inc. Coinbase Custody was launched in 2018 and specializes in storing crypto assets.
Assets offered
Rather than make every possible crypto (over 19,000 at the time of writing) available for trading, BitIRA and Equity Trust only support trading for a limited number of cryptocurrencies representing a cross-section of the overall digital currency ecosystem.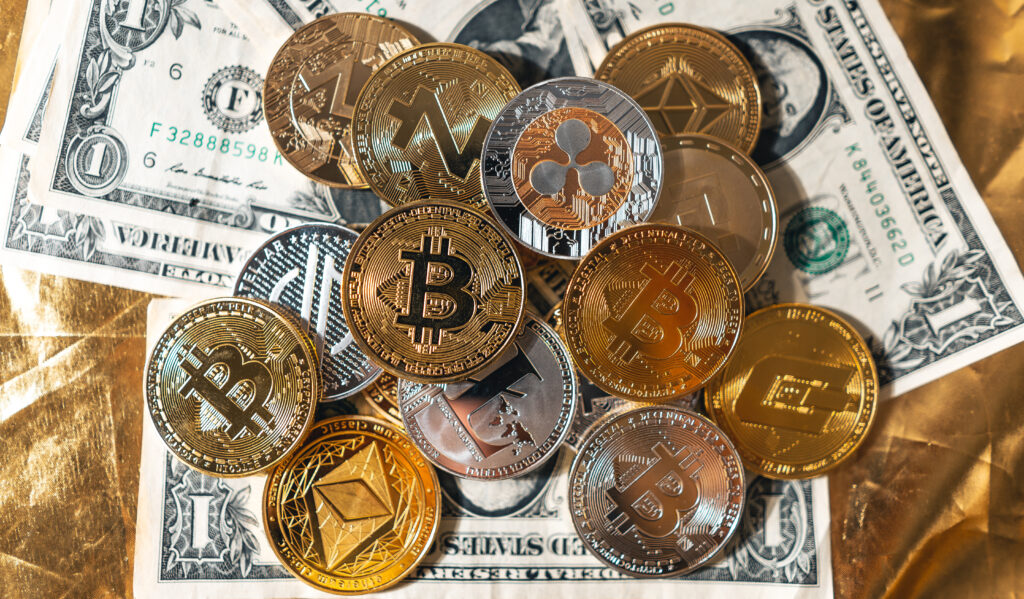 BitIRA customers can trade Bitcoin, Bitcoin Cash, Chainlink, Ethereum, Ethereum Classic, Litecoin, Zcash, Stellar Lumens, Aave, The Graph, Basic Attention Token, Livepeer, Uniswap, Decentraland, Compound, the DAI stablecoin, Maker, and Yearn Finance. These cryptocurrencies represent the majority of the overall crypto market cap and include various leading blockchain technologies and utilities, including decentralized finance (DeFi) applications.
As of May 2022, iTrustCapital offers 28 different cryptocurrencies, such as Ethereum, Bitcoin, Litecoin, and Bitcoin Cash. In addition to the better-known cryptocurrencies, iTrust also supports some newer digital assets, like Shiba Inu and Dogecoin, which have seen much scrutiny in the media.
Types of IRAs offered
Through BitIRA, clients can set up four types of individual retirement accounts: Traditional, Roth, SEP, and SIMPLE IRA plans.
iTrustCapital supports three types of individual retirement plan accounts: Traditional, Roth, and SEP IRAs as of May 2022.
Insurance
Both BitIRA and iTrustCapital customers are protected by insurance policies – but which offers superior insurance coverage?
BitIRA insurance
BitIRA has comprehensive crime and crypto vault risk insurance coverage that includes both internal and external theft of digital assets. BitIRA's insurance coverage is provided through multiple policies to ensure end-to-end coverage for our customer's digital assets.  We strive to protect customers from virtually every possible loss imaginable, like hacking, fraud, theft, damage, and destruction.  Our insurance partners have extensive experience in underwriting digital assets.
iTrustCapital insurance
iTrust's insurance policy is provided through Coinbase, which protects a portion of digital assets that are held by Coinbase. According to iTrust, a global syndicate of insurers provides coverage for the Coinbase insurance policy, though it doesn't specify which insurers are part of this syndicate. As of May 2022, Coinbase's insurance coverage does not cover losses due to unauthorized account access, leaving the onus on account owners in those types of scenarios. iTrustCapital is insured under Coinbase Custody's crime insurance coverage, which has a limit of $320 million per occurrence. One item to note is that iTrust's insurance policy doesn't specify whether coverage extends to the possibility of the company itself shutting down. According to the 10-Q Coinbase filed with the SEC:
Moreover, because custodially held crypto assets may be considered to be the property of a bankruptcy estate, in the event of a bankruptcy, the crypto assets we hold in custody on behalf of our customers could be subject to bankruptcy proceedings and such customers could be treated as our general unsecured creditors.
Security
Security of your digital IRA assets is important. Here's how these two digital IRA providers compare.
BitIRA security
When it comes to crypto security, BitIRA's solution goes to extreme lengths to protect its customers' assets. Through Fireblocks and other security partners, BitIRA relies on Multi-Party Computation (MPC) to keep its customers' assets secure.  With MPC, personal authorization as well as authorization from our security partners is required before any transaction can be approved.  This prevents having a single point of compromise.  Our custodian partner (Equity Trust) has a spotless track record and has never been the victim of a breach.
iTrustCapital Security
iTrustCapital integrates with Fireblocks software for security and partners with Coinbase Custody to store its customers' assets as of May 2022. Coinbase Custody provides excellent security, maintaining SOC1 and SOC2 security audits. Like BitIRA's custodian, iTrustCapital's custodians have never suffered a breach.
Service/Assistance
BitIRA has an in-house customer service team to personally help you facilitate the rollover process. Unlike some other companies, BitIRA provides a white-glove service with one-on-one customer care. Customers and prospective customers have the undivided attention of their dedicated IRA service expert, and never have to deal with long hold times or other frustrating inconveniences. BitIRA is also available by email or phone, making it easily available to anyone in need of quick support.
As of May 2022, iTrustCapital has online customer service which, according to its website, takes 3-5 business days for a reply. iTrust does have a phone number on its website, though the service is in Beta; the other option for contacting iTrust via phone requires you to schedule an appointment online.
Key similarities and differences
Both BitIRA and iTrustCapital are popular facilitators for reputable crypto retirement accounts. In our opinion, BitIRA offers a more personalized, curated experience that prioritizes security and customer service. iTrustCapital is a great choice for those who prefer to have a larger variety of cryptos to choose from, and don't necessarily want the same level of customer support.
BitIRA holds the advantage for account types, giving customers the option to choose from Traditional, Roth, SEP, and SIMPLE IRAs, while iTrust only supports the first three (as of May 2022).
In terms of compliance, BitIRA or iTrust both maintain well-regarded certifications. Finally, while iTrustCapital uses Fireblocks for security and carries insurance, BitIRA's multi-signature wallet, Grade V nuclear vaults, and end-to-end insurance provide additional protection for customers' assets.
Factor

BitIRA

iTrustCapital IRA

Account Types

Traditional IRA
Roth IRA
SEP IRA
SIMPLE IRA

Traditional IRA
Roth IRA
SEP IRA

Customer Service

White glove rollover service and access to IRA specialist
Self-service, on-demand trading

Do-it-yourself investing through the web

Security

Fireblocks Software
24/7 guarded monitoring
CCSS Level-3 Standards

Fireblocks Software
SOC1, SOC2 audited

Compliance

✓ FinCEN registered (First crypto IRA facilitator to register as an MSB)

✓ FinCEN registered (via Coinbase partnership)

❌Not registered as an MSB

FDIC Insured (Cash)

✓ ($3.75 million per account)

❌ $320 million (per incident and overall, not FDIC)

Insurance Limits

$100M

$320 million (per incident and overall, not FDIC)

Fireblocks: $42 Million Insurance Policy

Registered MSB

✓

❌

Custody

Equity Trust Company
Coinbase Custody
Multi-Signature Wallet

✓

❌

In-House IRA Support Team

✓

❌

End-to-End Insurance

✓

❌

Investment Options
18
28
BBB Accredited

✓

A+ Rating

❌