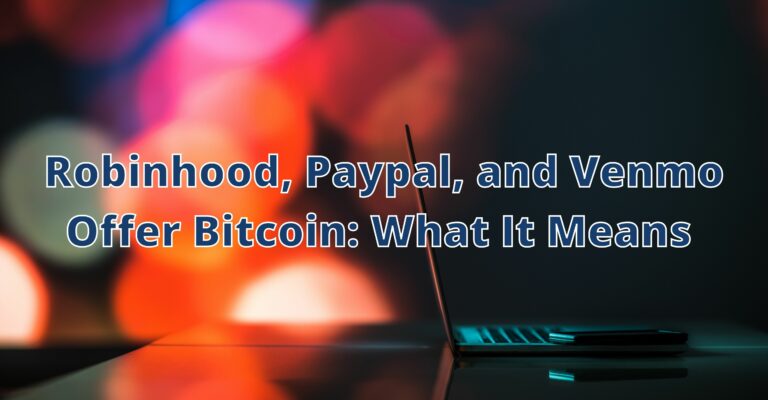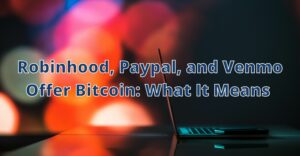 As bitcoin goes mainstream, more and more financial institutions seek to incorporate digital assets into their product offerings. Fintech giants like Robinhood, PayPal, and Venmo now all provide bitcoin on their platforms. This brings the world's most notable digital currency to millions of users who otherwise may not have had access.
How to Purchase
Here we will describe, in brief, how to purchase bitcoin on the selected platforms. These scenarios will assume that you already have an account with these platforms and that bitcoin will be purchased and held directly in your account.
Robinhood
As a digital broker, Robinhood's process is the closest to purchasing bitcoin on a cryptocurrency exchange like Coinbase. On the homepage, you will see a section for cryptocurrencies. Here you select bitcoin to be taken to the bitcoin detail page. Click the buy button and then enter the number of dollars you'd like to use for your purchase.
The default order type is a market order, which is probably what you want. If not, you can select the Order Types button on the top of the screen to change the order type. The last step is to review and submit your order which will then be filled based on your entered specifications. Your bitcoin transaction is usually completed lightning-fast unless, of course, Robinhood is experiencing server issues that have routinely plagued the platform in the past.
PayPal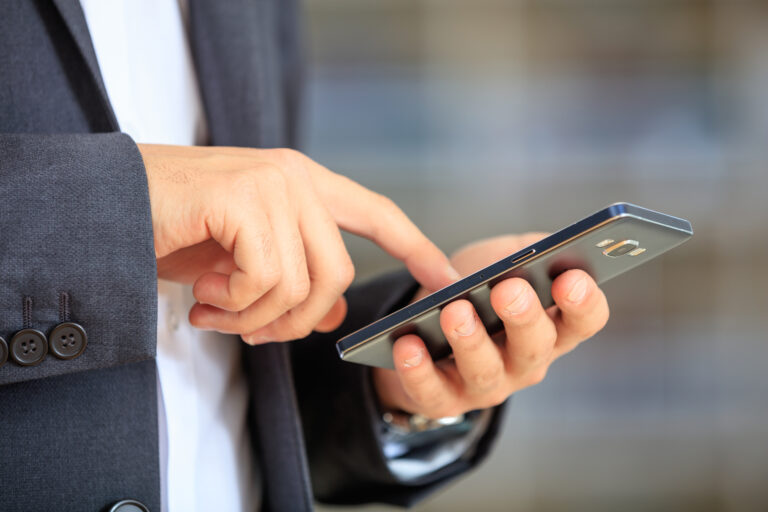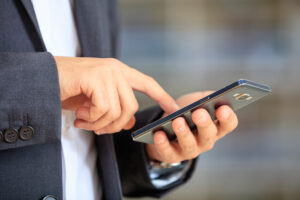 On the PayPal homepage, you will see an option for Crypto in the top navigation bar. Once you are on the Crypto page, select bitcoin to be taken to the bitcoin page. Here you will be asked to confirm some information before you can complete your purchase, including agreeing to PayPal's terms and conditions for cryptocurrencies. You will also need to set up a PayPal Cash Plus account if you don't have one already (don't worry, it's free to set up).
Once this is taken care of, you will be prompted to enter the dollar amount with which you'd like to purchase bitcoin. The next screen will prompt you to choose what payment method you'd like to use for this purchase. You can use any payment method on file, including PayPal, a credit card, or a bank account. Lastly, confirm the information for your purchase and select "Buy Now" to complete the transaction, and your bitcoin will be in your account within a fraction of a second.
Venmo
Navigate to the menu in your Venmo app. Here you will see an option for Crypto at the top of the menu. Select the Explore button directly on its right. Here you are taken to a page where all the available cryptocurrencies on Venmo are displayed. Select bitcoin to be taken to the bitcoin page, where you can select the "Buy" button to start your purchase. Much like PayPal, Venmo will first require you to agree to their terms and conditions before continuing as well as fill in your personal information if it's not already on your account.
Once this is complete, you will be prompted to enter the dollar amount for your bitcoin purchase and the payment method you'd like to use for the transaction. You can review the purchase information for correctness and then complete the transaction. The bitcoin purchase will be in your Venmo wallet almost immediately.
How Does This Compare to Buying on an Exchange?
Unlike purchasing bitcoin directly on an exchange, Robinhood, PayPal, and Venmo put ownership control of cryptocurrency in the service provider's hands. Without direct ownership, you cannot withdraw crypto or use it to make purchases. We will discuss this point more in later sections.
Digital Wallets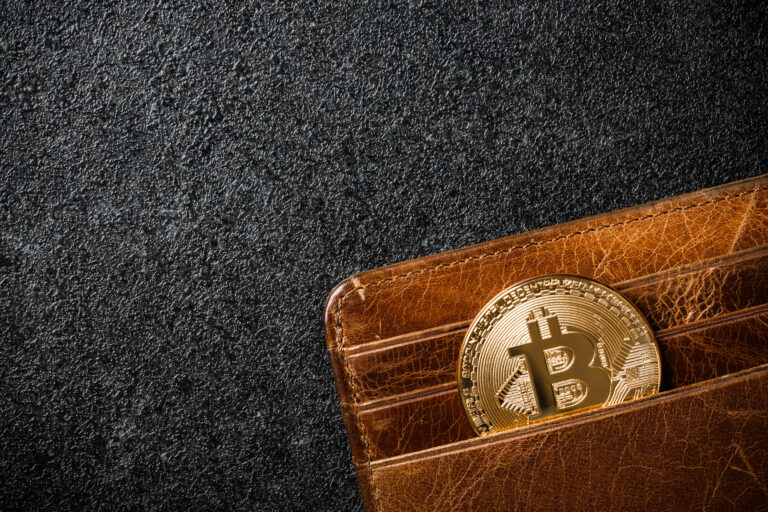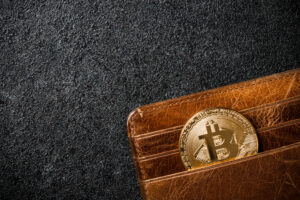 When users take control of their own cryptocurrencies, they do so within "digital wallets." A digital wallet is most often a password-protected website like Exodus, Edge or Wasabi. There are also hardware wallets, physical devices that store your information locally, like the Trezor T or the Ledger Nano X.
These wallets are used as a means to store and use cryptocurrency securely. Wallets have two keys: a public key used for receiving cryptocurrency and displaying transaction information, and a private key is known only by the wallet owner and used to send cryptocurrency out of the wallet. (You can think of a public key as your bank account number and the private key as the PIN for your debit card.)
Custodial Ownership
A custodian holds assets for safekeeping on behalf of another party. In this way, PayPal and Venmo act as custodians for their crypto users, giving the platforms access and control over the crypto itself. This means PayPal and Venmo can and do put restrictions on the use of bitcoin, such as how much can be sent and where it can be used.
But unlike the other platforms, Robinhood is different. Users who purchase bitcoin on Robinhood aren't actually buying the cryptocurrency itself. Instead, they are purchasing something more akin to an IOU that tracks the price of bitcoin. This means you never actually own the cryptocurrency in the first place.
This contrasts with non-custodial cryptocurrency exchanges. All crypto on these exchanges is held in digital wallets inside the exchange. The exchange itself does not have access to these funds.
Lastly, when you hold cryptocurrency like bitcoin in your own digital wallet, they are controlled and secured by you, the owner. This self-custody is arguably the safest and most secure way to hold cryptocurrencies.
Fees
Trading fees vary across crypto exchanges. For instance, trading fees on Binance US are extremely low, currently at 0.1%. Meanwhile, trading fees on Coinbase vary depending on the payment method. Still, they range anywhere between 1.49% and 4%, along with a 0.5% spread (the difference between the buy and sell prices currently quoted on the market technically, but it's simpler to think of it as just another expense).
PayPal and Venmo have trading fees that are in the midrange. Both platforms charge a 0.5% spread which can change based on market conditions. These fee similarities are not surprising since PayPal owns Venmo.
On the flipside, Robinhood is a no-fee broker, meaning it doesn't charge any fees for crypto purchases. This makes Robinhood the lowest-cost way to purchase cryptocurrencies. Even so, the company was previously found to provide its customers with inferior trade prices than its competitors, which could mean a higher cost of trading on Robinhood than previously thought.
Pros/Cons of Robinhood, PayPal, and Venmo
Pros
Security – With self-custody, you are required to secure your digital assets personally. However, Robinhood, PayPal, and Venmo all secure your holdings on some of the world's most innovative fintech platforms.
Ease of use – These platforms make it simple to buy and sell bitcoin in an instant. This eliminates the need to move funds between wallets or exchanges. You probably already have an account with one of these platforms.
Fees – Robinhood is one of the only no-fee brokers out there offering bitcoin purchases. PayPal and Venmo still offer reasonable fees compared to most crypto exchanges.
Cons
No direct ownership – Purchasing crypto through all three platforms means you don't actually own the cryptocurrency itself. Therefore, you can't withdraw cryptocurrency out of these platforms to your wallet. PayPal recently announced its plans for a crypto withdrawal feature, but it has yet to be implemented.
Potential censorship – As seen with Robinhood, centralized platforms have the ability to shut down or cancel purchases at any moment. Therefore, you are at the mercy of the platform and how it decides to conduct business.
Contrary to the crypto ethos – It might be easier to use a centralized entity for your crypto trading, but this goes against the entire ethos of cryptocurrencies, which preach complete decentralization of the financial markets. Therefore, hardcore crypto enthusiasts look down upon those getting into crypto in this way.
"Bank run" risk – Robinhood, Venmo, or Paypal do not actually own all the bitcoin they sell through their services. If all users were to sell their cryptocurrency assets simultaneously, these fintech organizations might not be able to cover every transaction, putting you at risk of losing money.
What's Next?
It only makes sense that fintech leaders like Robinhood, PayPal, and Venmo would be the first to offer bitcoin. But what happens when traditional financial institutions start to get on board as well? Financial behemoths like JPMorgan Chase, Citigroup, Barclays, and others could be the next stop for bitcoin and other digital assets.
This would open even more doors for bitcoin custody and security that both retail and institutional investors could find appealing. Still, using bitcoin inside the legacy financial system does nothing to actually utilize bitcoin in its intended way: as a censorship-resistant, pseudonymous, decentralized currency for transactions.
On the other hand, holding assets with incumbent and well-known institutions provides a sense of security that is currently hard to duplicate for digital asset holders.
Those who feel comfortable in bitcoin self-custody will likely continue to secure their assets themselves. Still, for those that like the idea of their favorite banking or finance app providing access to digital solutions, this will make for a great option.
Remember, every crypto transaction is a taxable event, and you'll want to keep track of your tax basis. This is one big reason a digital IRA excels; when you buy and sell bitcoin within an IRA, these transactions are not taxable events. To learn more about a bitcoin IRA, contact our experts at BitIRA today!