It's been nearly 15 years since Bitcoin came into existence, and people seem to forget its original purpose.  While "crypto bros" go around hyping it as the future without fully understanding the underlying technology, and altcoins come and go, Bitcoin has remained a force in the currency market.  It's proven time and again its staying power, but perhaps nothing more clearly demonstrates the validity of its original purpose than looking at where things stand today.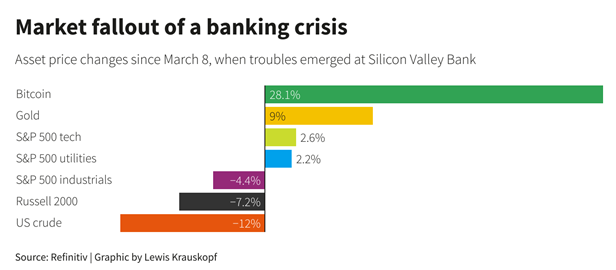 Not only is Bitcoin outperforming traditional markets which are reeling from the current banking crisis and still have yet to fully recover from the COVID pandemic and raising inflation, but it's even outpacing gold which has long been the "gold standard" of economic stability in tough times.  (Perhaps the idiom will change to "crypto standard" in a few years.)
Bitcoin was an inspiration that grew out of the scorched Earth of the 2008 financial crisis.  It was designed for these unprecedented times of economic uncertainty, which seem to be happening rather often now.  Bitcoin's creator pointed out the "inherent weakness of the trust-based model" that keeps our traditional finance system afloat.  What happens when that trust erodes?
You get bank runs, and further turmoil as the distrust snowballs.
With Bitcoin, and cryptocurrency in general, there is no such thing as a bank run.  Your money is always available in your wallet to use when you need it.  Everything lives on a public ledger, and while cryptocurrency users are certainly subject to scams and the failings of institutions like FTX, trust isn't necessary for the crypto-monetary system itself.  It exists in reality (or at least virtual reality) just as gold and silver do.
This current economic crisis is a kind of perfect storm for Bitcoin and cryptocurrency enthusiasts.  So many of the stresses being placed on our traditional system are the exact things cryptocurrency protects against:  inflation, lack of trust in institutions, a centralized federal reserve.  Therefore it's no wonder as we face a banking crisis, cryptocurrency rallies.  Some might say Bitcoin was made for a baking collapse.
As usual, Bitcoin sets the direction and pace for the entire cryptocurrency market.  Bitcoin rose over 5% over the past week and surged nearly 20% over the past month.  Meanwhile other popular coins are looking at similar jumps, with Litecoin up over 10% for the week and even Ethereum is looking like it could finish out the week with an increase around 4%. Yes, these are short-term movements – even so, true believers now have another case to prove the independence of the crypto marketplace from traditional asset classes.
And crypto-believers have certainly taken this opportunity to gloat.  Even though a financial crisis is going to have reverberating effects on the market, on everything from prices to unemployment to supply and demand, those invested in cryptocurrency are feeling vindicated right now. Maybe they're feeling a sense of security, that their asset class doesn't dangle from strings tied to central bankers' hands?
Of course, it's never a good idea to try and time the market, and the same is true of cryptocurrency.  Financial experts generally suggest investing whenever you can with whatever you can afford at the moment.  Consistent investment tends to lead to consistent growth, while responding to market fluctuations has a tendency to push people into accidentally buying high or selling low (and sometimes both!)
Whether you've already got a crypto portfolio or not, investing in crypto is certainly looking like a smart move today.  Regardless of how the issues with the banks shake out in the coming weeks and months, we believe cryptocurrency will once again prove itself a sensible alternative to trust-backed fiat currencies and the fickle house of cards the stock market looks like these days.
If you're like us, future-proofing your retirement sounds like a good idea.  Maybe you'll want to learn more about opening a digital IRA.  And if you've already been investing in cryptocurrency and didn't realize you could put crypto into an IRA account, then you'll definitely want to read up on the tax benefits of investing crypto into a retirement account.