While some may look at the SEC's recent delay of a decision on the ARK 21Shares Bitcoin ETF from November 11 to January 10, 2024 as an indicator that the regulatory body is once again hampering progress on crypto adoption, it ultimately means something much more important: regulations are coming, and they will be both fair and strong when they get here.
At this point, we've seen it again and again in other countries around the world as crypto regulations are wrestled into place. As soon as it happens, the industry takes off – buoyed by corporate investors that are pouring millions into crypto coins.
The best example of this is India, which, despite strict regulations and high taxes, has become the number one cryptocurrency market in the world, according to the Crypto Adoption Index. Earlier this year, India passed regulations that require crypto wallets and exchanges to monitor crypto activity in India for money laundering behavior and report it accordingly. It also established a hard tax of 30% on crypto purchases. Neither factor has slowed demand for crypto currencies, propelling India to the top of the global crypto adoption chart.
Other countries show a similar story. Saudi Arabia saw a 12% increase in year over year demand for cryptocurrencies, representing $31 billion traded from July 2022 to June 2023. Notably, July 2022 was the exact same month Saudi Arabia appointed a crypto chief to handle how it would be handled in the kingdom.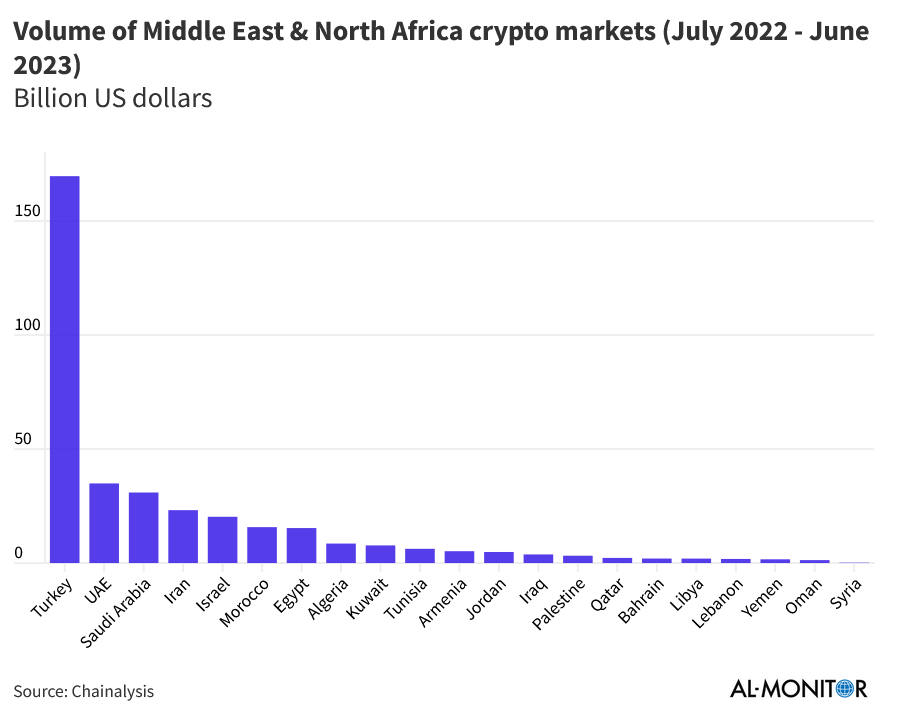 Or let's just look at Turkey. Turkey's trade in crypto was a staggering $170 billion over the same 12-month time period, representing the largest amount of trade in the MENA region (see graph above). Why is there so much crypto adoption in Turkey? Because in 2021, the government announced strict regulations on how cryptocurrency could be used. Despite the restrictive nature of Turkey's rules, buy-in for cryptocurrency has skyrocketed amongst the population, many of whom are looking to shelter their assets against the lira's inflation.
A regulatory arms race is no doubt going on right now over digital currency.  The examples are clearly numerous: once countries implement regulations that govern how crypto can be used – no matter how strict they may be – crypto adoption soars amongst businesses and individuals alike. Simply having regulations in place provides a layer of security for cryptocurrency operations, and that's more than enough for businesses that have been patiently waiting to take advantage of the wealth in the crypto market.
It is true that the U.S. has been painfully slow in establishing regulations, and the SEC's decision represents another delay. But it is important to note that the SEC did not issue an outright denial of the application, and BlackRock's highly promising Bitcoin ETF application is still pending (meaning the SEC may be employing strategic timing to issue the first approval). With these clues in place, and members of Congress pushing for the approval of Bitcoin ETFs, it's clear to cryptocurrency investors that it's only a matter of time.
Once the U.S. regulation is in place, of course, widespread adoption is expected to send the market sky high – to the tune of $30 trillion. Getting into the crypto market before that happens is the best way to take advantage of the anticipated boom.
Photo by Immo Wegmann on Unsplash.