Everywhere you look in the global market, the signs are clear – economies around the world are looking to dedollarize in the face of the declining value of the U.S. dollar, which will only further decrease the worth of America's national currency. But it's not just other nations that are considering financial alternatives, it's people who are looking to protect their assets against the whims of the unstable fiat currency. One refuge they're finding is in cryptocurrency.
Unlike the dollar, cryptocurrencies like Bitcoin that have a finite supply cannot be decreased in value by a central bank printing more of them. They aren't subject to the geopolitical standing of a single nation state, and there's no centralized entity that can go into debt using Bitcoin (thereby driving down its value). With the U.S. recently achieving a national debt of $33 trillion, it's easy to see why people are looking for other places to put their money.
How many people are making the switch to investing in cryptocurrency? It's difficult to put a specific number on it, but what stands out is the increasing share of Bitcoin held by "shrimps", or investors who hold less than 1 BTC. In the chart below, shrimps and "crabs" (who hold less than 10 BTC), represented by the magenta and orange lines, respectively, can be seen increasing in volume, while the amount on exchange supplies is going down.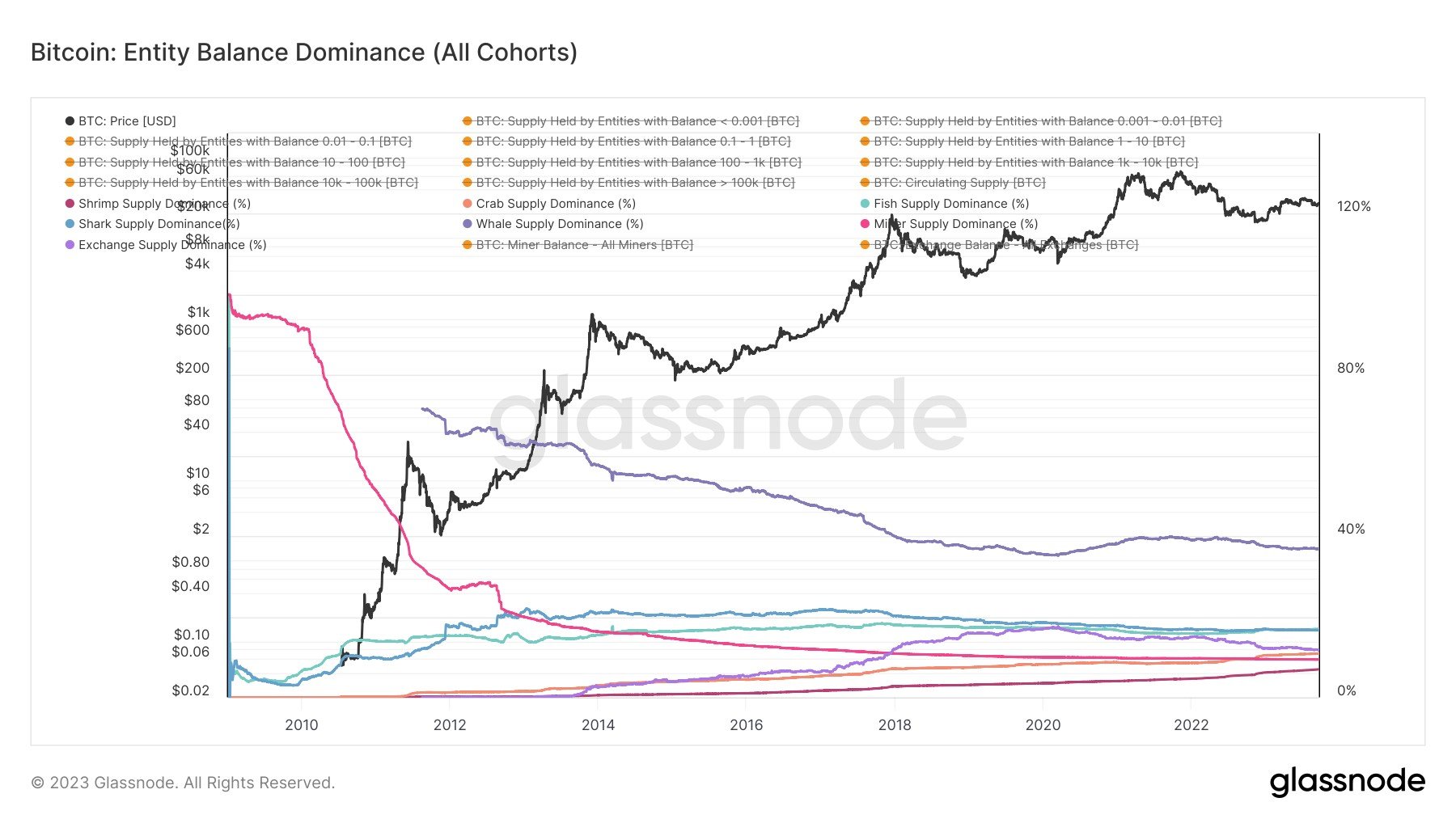 In other words, Bitcoin is more in demand than ever, and it's smaller investors who are driving the demand.
It's not just in the U.S. where this is happening, of course, as people around the world are turning to cryptocurrency to invest and convert their local currencies. Turkey is among the countries who have seen a huge increase in cryptocurrency adoption as the Lira struggles with high inflation (recently climbing to 61.5%).
The U.S.'s inflation rate may not be that dramatic, but after hitting almost 10% last year and with inflation once again on the rise, more and more people are looking to diversify their long term savings out of dollars.
The impact of inflation and the decreasing value of the dollar is gradual, but as it continues, it becomes painfully easy to notice. Consider this data from the Bureau of Labor Statistics: a bag of groceries purchased in 2013 for $100 would cost $131.45 in 2023 – increasing by almost 30% in just 10 years.
If you had an investment that decreased by 30% in the last decade, would you keep holding on to it? Probably not – and so, a solution emerges in what many consider to be "the future of money": cryptocurrency. The enthusiasm for Bitcoin in particular has been robust, even in the face of the declining U.S. economy, with BTC gaining more than 60% in value in 2023.
With no central governing bank that can drive down its value, increasing acceptance, and multiple indicators that a regulatory framework is on the way, cryptocurrency in the U.S. is clearly about to hit its stride. When it does, investors around the world will benefit from the stabilized market.
Photo by Gabriel Meinert on Unsplash