After a year in development, and thousands of hours of testing, we're thrilled to finally share the big news…
The BitIRA experience just got even better
We've launched a comprehensive upgrade to the My BitIRA platform that gives you more power, more control and more options to manage your digital IRA assets.
The onboarding process is the same as before. You'll speak to a Digital Currency Specialist, who will coordinate opening your self-directed IRA and your rollover from existing retirement accounts.
Once your account is established, you'll receive access to My BitIRA. That means:
Live trading: Trade assets 22 hours a day, 7 days a week in real time.
Triggered trades: Set up custom rules to create buy and sell orders automatically at price levels you specify.
Easy reporting: View balances, transactions, historical performance and everything you want to know, available at a glance.
Lower monthly custodial fees: Pay a flat $29.99 per month. Update: $0 monthly fees
This is a new interface, a new look and feel. The platform is connected to a world-class broker for cryptocurrency trading. Here's what makes them the best:
Full-service digital currency prime broker – Regulated as a securities broker-dealer with the SEC and FINRA.
Unrivaled Speed – Quotes are stable and transactions are lightning-fast, executed instantly and settled on the next business day.
Established Experience – Since 2018, they've facilitated countless billions of dollars in transactions, backed by a proven computer security team.
Institutional-Grade Custody – When you aren't transacting, your assets are protected with Multi-Party Computation and our security partner, Fireblocks.
Insured – Your crypto assets are insured end-to-end, throughout each transaction.
Stable Liquidity – Assets are traded through Galaxy Digital, our exchange partner, which is a world leader in digital asset trading and liquidity.
Here's what the dashboard looks like…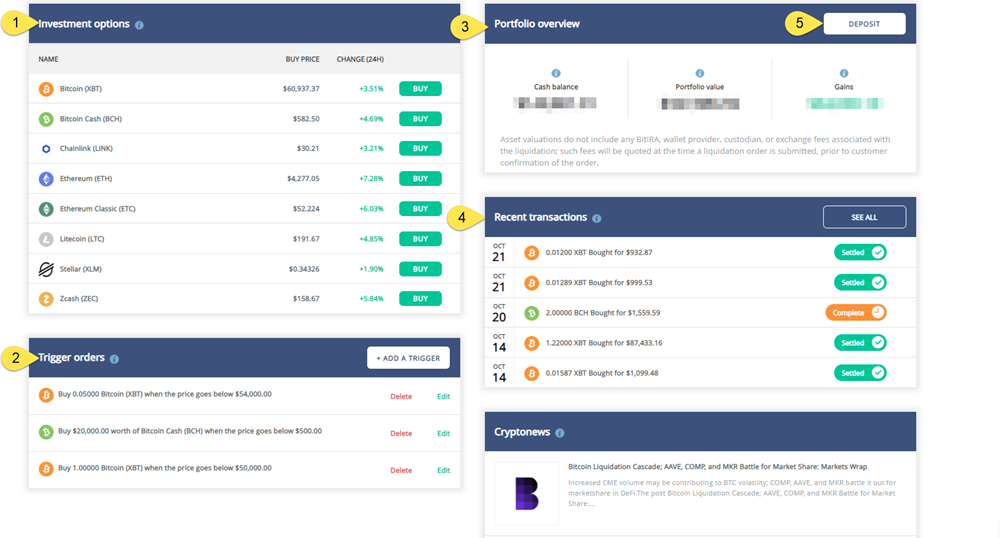 Investment options shows you all supported cryptocurrencies and real-time prices.
Trigger orders allows you to set custom rules to automatically create buy or sell orders at the price thresholds you specify. 
Portfolio overview gives you a snapshot of your total cash balance, digital IRA value and gains.
Recent transactions summarizes your latest trades and their status. 
Deposit lets you add funds to your digital IRA any time, day or night.
The new My BitIRA platform gives you more power, more control and more options than ever before! Most of all, it makes managing your digital IRA simple, intuitive and easier than ever before. 
(Our employees have been using the new My BitIRA for a few weeks now and they all report that it's fantastic. Every single trade is so much faster and easier.)
Did we make it too easy?
If you've been on the fence about opening your Digital IRA, especially if you've been worried that it's too complicated or time-consuming, this is great news. It's simply never been easier to diversify your retirement savings with cryptocurrencies.
In fact, this creates a potential problem: It's so easy to get started, we're concerned the "first-mover advantage" for investors and savers is fading fast.
So to get started today, call us at (800) 299-1567. As always, our team is happy to help.