Reversals to crypto's bearish momentum tend to be surprising. And it is no less true now that bitcoin has jumped back to $45,000 almost overnight after Russia invaded Ukraine.
As always, geopolitical upheaval moves markets. During what one might call the dawn of the invasion which began Thursday, February 24, risk-on assets (stocks and crypto as well) sold off precipitously. For a moment, $30,000 bitcoin seemed around the corner.
But then something interesting happened. Stocks recovered. Crypto absolutely surged.
Take a look at this chart comparing the last 30 days of movement in the S&P 500, bitcoin and crude oil: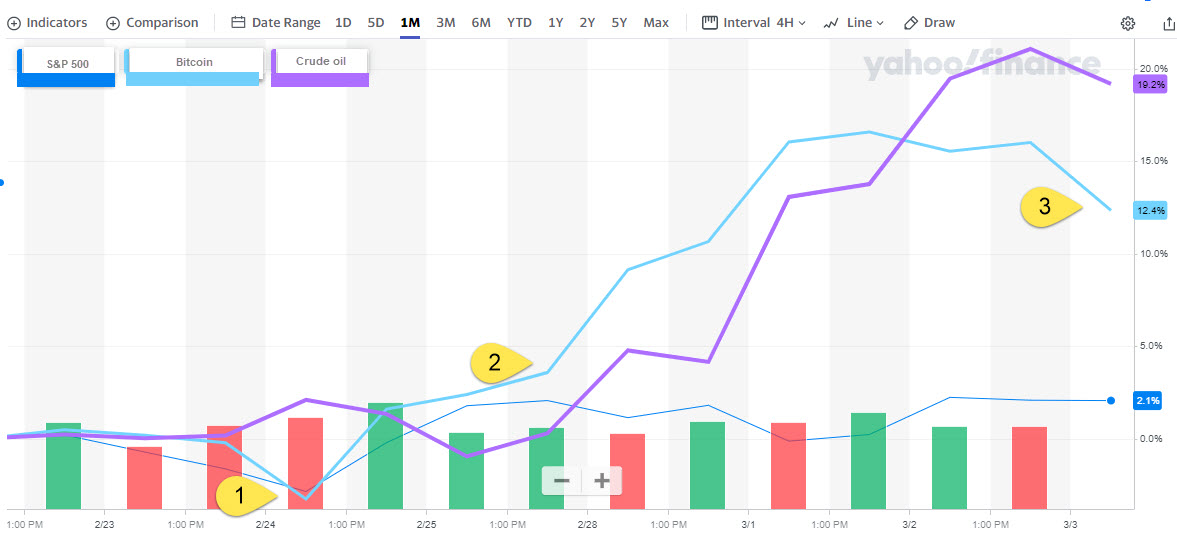 Point 1: this is the big risk-off price plunge on February 24.
Point 2: this is where bitcoin became untethered from stocks and skyrocketed, for a while even outpacing oil. (Oil's price rose like it always does when there's a global crisis.)
Point 3: both oil and bitcoin decline a bit, both currently much higher over the full 30 days. Crude oil is up 19.2% at time of writing, and bitcoin up 12.4%.
So what's going on with the lack of correlation here? Is crypto a risk-on asset with massive volatility and accompanying return opportunities? Or is it a safe haven, especially in the case of cryptocurrencies with a fixed supply cap?
Crypto is all of this and much more. At its base, it's a decentralized "people's finance." When we examine the impact that the conflict has had on the lives of people in both Russia and Ukraine, we have to wonder: is this a reversal we should have seen coming?
Economic warfare on Russia
The sanctions imposed on Russia were called underwhelming, not enough to halt the conflict.
But for the Russian citizen, they were anything but. The perpetually flimsy ruble, which has long suffered from both overall economic weakness and an excessive reliance on oil prices, plummeted to its lowest price ever, now worth less than a penny. Russia has suspended all foreign exchange, meaning citizens are no longer able to swap their rapidly-depreciating rubles for a more stable currency.
We all know how that movie ends.
But it gets worse. As Forbes contributor Mayra Rodriguez Valladares tells us:
Also on Monday, the Russian Finance Minister Anton Siluanov ordered Russian exporting companies to sell 80% of their foreign exchange reserves to prop up the plunging ruble. To no one's surprise, this caused the ruble to depreciate even further. Few things scare citizens and investors more than government interventionist officials telling companies what to do with their profits and reserves. Ordinary Russians have been rushing to their banks to withdraw money as fast as they can.
Instead of waiting for a Venezuela-type scenario, Arcane Research's Bendik Schei said that Russians are reacting to this prohibition in obvious ways. Since swapping rubles for other currencies means going to a bank (now illegal) or paying a premium and risking arrest with a black market transaction, they're turning to crypto.
Now, you might think that a loyal, patriotic Russian citizen would never do such a thing. It would be disloyal. Unfortunately, the Russian people have learned, over and over, that their leadership does not have their best interests at heart. That's why they're desperate to unload their rubles.
Besides cryptocurrencies, stablecoins like Tether have also proven to be an immensely popular choice for Russians wanting to avoid financial calamity.
Actual warfare in Ukraine
For Ukrainians, the calamity extends past the financial. Ukraine, one of the crypto-friendliest nations in the world, is at war with the world's #2 force on the Global Firepower index. Not only is the fighting happening on their own territory, with their own cities burning, but they're also fighting alone.
That's why Vice-Prime Minister Mykhailo Fedorov tweeted bitcoin and Ethereum addresses for relief donations. In just a few days, those appeals have netted contributions worth $22 million. Besides safety in the most literal sense, Ukrainian citizens who are used to seeing both crypto and the U.S. dollar as alternative stores of value will no doubt seek similar financial refuge.
Because, again, that's what cryptocurrency is for. It's a decentralized network of financial freedom. Freedom from central banks and oppressive regimes as well as freedom, for individuals, to take control of their own financial destinies. That's one more reason cryptocurrency is the money of the future.
This is what decentralization looks like
Right now, the crypto market is being boosted because it's acting exactly as it should and providing the very utility it was designed for. Whoever has access to crypto, anywhere in the world, will eventually find controlling their own financial destinies simply too tempting to pass on.
We are of course hearing the expected questions: Won't Russia's 0.01-percenters also use crypto to move money around and evade sanctions? Will Western nations try to stop this by trying to regulate crypto?
Let us respond with an in-kind question: have the Russian kleptocracyliterally, "rule by thieves" ever had any trouble moving their money around? Accessing it? Of course not.
But the average person has, time and again, found themselves at the mercy of central banks, governments, financial markets and things that have an acronym.
And while Ukraine has been a center of crypto development and activity, Russia has virtually banned its use. Financial freedom on one hand, total control on the other.
The West need not worry. If Russia's elite uses crypto, they'll probably violate their own laws. They will all jail themselves, the conflict will be resolved and Volodymyr Zelenskyy can use the unspent crypto donations to throw an epic party.