2017 could rightfully be called the year that Bitcoin was embraced.
The cryptocurrency has been in circulation since 2009 and has enjoyed reasonable pricing throughout its history, but it wasn't until last year that investors and institutions truly opened up to the idea of a valuable and decentralized digital currency.
With this acceptance came a 1,700% appreciation in the span of just one year. The aggregate market cap grew from $17.7 billion to $325 billion, and an increasing number of financial institutions decided against missing out on the fastest-growing commodity of the digital age. Major exchanges, such as CBOE and CME Group, launched the first Bitcoin derivatives, while major banks adopted or toyed with the idea of supporting Bitcoin transactions. Those who have previously endorsed Bitcoin, such as online retailer Overstock.com, added even more options for those inclined towards the digital currency.
Yet, not everyone is willing to welcome Bitcoin as a new currency. Six governments have already placed a ban on Bitcoin, with most of them disallowing it even before the recent price explosion made it a global phenomenon.
Bolivia, Ecuador, Kyrgysztan and Bangladesh all placed a ban on Bitcoin in 2014, one that makes it illegal for individuals and businesses to own or trade in the cryptocurrency. Somewhat unbeknownst to its citizens, Nepal followed suit, as did Morocco with the most recent official ban in November 2017. Aside from occurring in the midst of Bitcoin's year-end rise, Morocco's ban also stands out by being passed just days after MTDS, a domestic provider of digital services, announced support for digital currencies.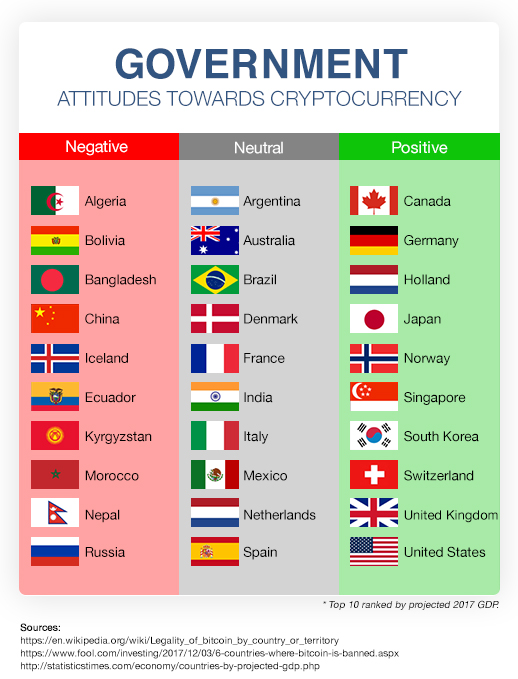 Each of these six countries cited similar reasons for their bans: Bitcoin is too difficult to track and isn't issued by a central bank. Adding to this list is Russia, whose deputy finance minister Alexey Moissev suggested back in September that a ban on cryptocurrencies is coming. However, the most notable example of Bitcoin restrictions came from a country without an official ban in place, yet one whose economic prominence brought on the biggest impact: China.
Although the Chinese government never officially banned cryptocurrency, as in the case of countries listed above, it nonetheless shut down exchanges in a move that some thought would put an end to the cryptocurrency in the Asian nation. Cointelegraph's Vincent Launay points out that Chinese investors rushed for the door, quickly selling their Bitcoin holdings as the digital currency plunged from $4,500 to $3,000 on news of the shutdown.
But this was just a momentary hitch in Bitcoin's upwards trajectory, and it has since recovered five-fold. Furthermore, the move led to a number of underground Bitcoin exchanges popping up, and today the cryptocurrency is being traded every bit as actively throughout China, albeit without government scrutiny. To Launay, the most significant consequence of China's decision is the amount of money its investors lost. With the enormity of Bitcoin's gains since September, Chinese investors potentially missed out on billions of yuans of profit, which could have been poured into China's economy.
Japan is one country that learned from China's mistake. Instead of doubling down on regulations, they embraced Bitcoin, issuing licenses to 11 cryptocurrency exchanges. Japan's goal to become a leader in cryptocurrencies and use them to mend its economic difficulties looks to be shaping up. Cryptocurrency trading in the Yen grew multifold since the licenses were issued, suggesting that Chinese investors migrated to Japanese exchanges. Nomura Holdings, a financial service company in Japan, even estimate that Bitcoin alone could be responsible for 0.3% of GDP growth in Japan.
The fact that Huobi, one of the world's largest cryptocurrency exchanges, plans to relocate from China to Japan and open two new exchanges there is indicative of the results governments will get from such clampdowns. Launay views Bitcoin bans as little more than a sign of an insecure or flimsy government trying to control its people. He compares banning Bitcoin, in the name of protecting currency, to banning email 20 years ago in order to preserve the Postal Office.
It's clear that cryptocurrencies are here to stay, and governmental restrictions on Bitcoin only serve to deprive a nation of wealth that could be generated from its trading. As disappointing as the bans are, Launay believes that Japan's adoption of Bitcoin marks the start of a promising trend.
Smaller countries could be the ones to pick up the slack; for example, Ghanian banker Papa-Wassa Chiefy Nduom recently urged his country's central bank to invest 1% of their foreign exchange reserves in Bitcoin. Wherever the change comes from, Launay feels it's only a matter of time until central banks realize that they have to coexist alongside cryptocurrencies instead of fighting them.