Although it retains its cutting-edge status, and it's rapidly evolving in its use to solve lingering problems of accountability across all industries, blockchain's behind-the-scenes implementation continues to grow beyond the visible scope of most consumers. The public may not realize just how rapidly its implementation is growing, and how widely it's being adopted. We sat down with Steve Bishop, founder of Justbookitnow and Flame Concepts, who's leading projects on blockchain implementation to help increase security around event ticketing, to gather his thoughts on the progress blockchain is facilitating in his industry—and beyond—for the everyday consumer.
BitIRA: The ticketing industry is an important yet very specific field to get into. How did you find your way into it?
Steve: Twelve years ago, I started working for a private estate. At that point in time, there wasn't much on the market that was cost-effective and that could help smaller businesses with more than a basic need for ticketing. Existing solutions were all too clunky, too big, and lacked basic needs for the market. In this, I saw an opportunity to bring good technology to help businesses grow.
I like fighting for the underdogs, bringing in ideas that usually often only bigger players get to use and fighting against 'the cartels' or big-players who often lack passion or understanding in an industry because its just a numbers game for them. After 19 years of retail business development, the move into ticketing and registrations came by chance. I spotted a business at the estate, but it became one I found a real passion for given so much need for more than just 'off the shelf' options. It's a challenge, and I still get a kick out of seeing the sales click through the system, helping more events and venues grow.
As we solved one issue for a client in car events, it was something I realised I could use for security at venues or even stadiums. By creating a bespoke form for a VIP client, I found we had a solution that could apply to more sophisticated registrations for delegates and sporting events. And so, our client base and our reach have grown. We are now focusing more on music, motor-sports and conferencing.
BitIRA: When did you realise that blockchain could be a major solution for ticket fraud?
Steve: It clicked with me a couple of years ago while I was listening and learning about new tech. I was getting to understand the features and key strengths of blockchain, having heard about it as most of us did, but I really watched and learned. I've grown steadily in the business, and we built in some good security. So while we haven't had the issue, you hear of customers buying tickets from touts and online who are being ripped off a) by the bigger 'cartels' and then b) from scammers or touts. In fact, 1 out of every 8 customers is reported to be getting ripped off in this way from fraudulent tickets.
The opportunity is to create something that can be adopted easily, and to solve a huge and costly issue in the industry that can help protect fans, artists and venues. It's a great solution. We're going to build and link in to some great tech for larger venues including facial recognition for the app, allowing a safe and transparent buying and selling process from all ticket suppliers. We're also working on barrier control and increasing security to new levels not seen before.
BitIRA: What surprises have you faced as you've worked to implement blockchain in ticketing?
Steve: The biggest surprises have come from a couple of places, institutions and investors being one of them. Some, having been burnt with losses, really lack an understanding of the commercial opportunities that are available to genuine blockchain solutions. They've heard of blockchain, see a link to cryptocurrency, think that one is the other, and that 'you're chasing a vanity project' because you're using the B word. You can tell by their questions that the level of understanding is, I fear, stopping them from seeing opportunities that exist. Dragon's-Den-style approaches from investors, all trying to be 'Peter Jones', scramble to dismiss opportunities. Finding the few good people to work with is always the key; I believe we have that right now, and so finding one or two more is the next step.
When you start to work and talk in an industry, you can get easily absorbed in it. Blockchain is a community that is growing fast, with a lot of passionate people. I can see a lot of good in some of the solutions out there. But while some people doing some complex things in complex ways, my goal is to keep it simple. We need the transparency that blockchain can bring, and the security, confidence, and simplicity of being able to see and to know a real ticket is there in front of you, whether you are a fan, venue or organiser. The solutions being created so far are tech-led rather than bred from an understanding of the industry and clients, so its adoption can often be confusing. It's a big market though, so plenty for people to go at, but we're working to bring in a wider-adopted solution. Our partners will help see that happen as we secure the investment. The speed question has been an issue however that's changing as technology continues to evolve.
The best technology, I believe, is one that just works. People don't need to understand the detailed intricacies behind its whys and hows. The techs love it for the complexity, the users love it for its simplicity; that's our goal, and the speed of learning is huge and exciting.
BitIRA: What do you consider to be the biggest challenge(s) when it comes to the mass adoption of blockchain technology?
Steve: I believe the biggest challenge is still in education and understanding both of the commercial use and then for the technology to continue to evolve to solve real issues in a market leading way.
While I have no doubt Facebook's attempt to bring in Libra will help bring crypto (and in turn blockchain) to the front of people's minds, there is currently still a huge gap in understanding the use and practicalities of blockchain and a lot of fear of the unknown in the business and government world. Crypto and blockchain are clearly inextricably linked, but they aren't separated in peoples' minds – they think of blockchain and think of Bitcoin as being one and the same when they're not. Being in some communities of blockchain enthusiasts, the conversations seemed to be blurred between them too!
Human nature is to fear the unknown and people leap on fear and mistakes of the past and point to a reason to stop or not look at new solutions. The old sayings used often stand true and relevant here though. "If I'd asked my customers what they wanted, they'd have said faster horses" said the father of the modern automobile, Thomas Ford – you only have to look around to see the world of blockchain has some great technology being created. While some push the boundaries, some are without an understanding of the market forces.
Most consumers don't really care for how the tech is built, only that it solves a problem or helps them and its safe and trusted.  That's the goal for the project for which we're currently raising investments. Getting that message through to find our right investors and partners is the first step whilst we all need a clear message and to help educate the wider market.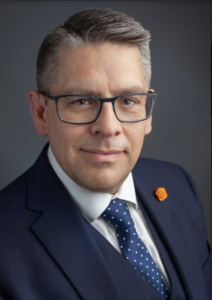 Steve Bishop, Founder of JustBookItNow