Photo by GovernmentZA / CC BY-ND 2.0 / Desaturated
Anu Bhardwaj is a dynamo focused on tackling women's issues on a global scale, including facilitating entrepreneurship and investing. Anu collaborates with key industry players to obliterate barriers to access for capital and demonstrate to women that systems meant to intimidate them can be easily mastered. She's already inspiring the next generation, as seen from her daughter Arya's achievements and confidence; at the age of 8, she's already launched Krypto for Kids and even spoken at the United Nations.
BitIRA recently caught up with Anu, both to learn more about how she got here and also to discover where she's headed to next.
BitIRA: How did you become interested in blockchain?
Anu Bhardwaj: I started my career wanting to pursue art history. Then I very quickly pivoted into entering the School of Foreign Service at Georgetown University, which I actually ended up auditing alongside double majoring in art history and biochemistry. Fast forward a few years to my work in private equity, working as a very successful industry disruptor with international presence. It was my job to raise capital for funds interested in extending their global reach to institutional investors, in regions such as the Nordics and the Middle East. I became an expert in identifying and raising capital at the macro level—for large private equity mega-funds, fund of funds, and venture funds in raising bigger funds while growing their global institutional investor networks. And while I was making substantial returns on my fundraising initiatives, I knew I wasn't directly helping the little guy like you and me… until I launched Women Investing in Women DIGITAL.
My foray into blockchain happened when I invested in a crypto fund based on what I learned from basics investment principles during my MBA at the Stockholm School of Economics in Sweden as well as almost a decade working with top decile PE/VC funds who had consistently outperformed their peers. I was curious about blockchain but even more curious about cryptocurrency. I'd seen returns from bigger funds, like killer private equity or venture funds; the figures were about 25% IRR up to maybe 60% on the higher end.
Then I started seeing the returns on crypto funds which were above and beyond 300% on the highest performers, even higher in some ICO's. I was shocked to see these returns within just five months. My initial reaction was, "This is ridiculous—definitely not sustainable based on market fundamentals! This isn't like anything I've ever seen before!" I was seriously interested in how this was happening and definitely interested in learning more. The rest is history.
BitIRA: What is the goal behind Qrypto Queens and your other related efforts?
Anu: My goal always was to help women figure out access to capital. It starts at the very top with how industry professionals are investing at the sovereign fund, pension fund, family office, and institutional level. There are actually a lot of women controlling wealth, inheriting wealth, marrying into wealth— which is now in excess of 20 trillion dollars globally. There are women who make their wealth by working super hard. The relationships between women and wealth can be complex and varied, but I wanted to help simplify what was causing so much fear and confusion.
Once I saw the returns on crypto funds, I decided I was going to learn about investing in blockchain by becoming a tech and fund investor. I learned from the reverse—what's working, what's not working, and what's the market doing. I didn't invest a lot, but I learned a hell of a lot because it was what these fund managers were investing in: ICOs, alt coins, etc. It was a whole new asset class; getting in at the ground floor gave me exposure not just to one coin, but to observe investors across the entire spectrum.
Most people jumping into crypto were recent college grads or had strong tech backgrounds, but I had my private equity and diverse global background. What I found was that I was one of the few women with a hardcore finance background, and I was able to get in early. It was very clear that the tech made a lot of people – particularly women – hold back from pursuing crypto; it was uncharted territory. It felt risky, and volatile, and some of the details were intimidating. But I found that you don't have to understand every last bit of the tech in order to participate and see the benefits of crypto and blockchain, and that's what I want to share with other women. This is a HUGE and unprecedented opportunity to participate in the largest global wealth transfer in history where women have the potential to help themselves and other women rise out of poverty.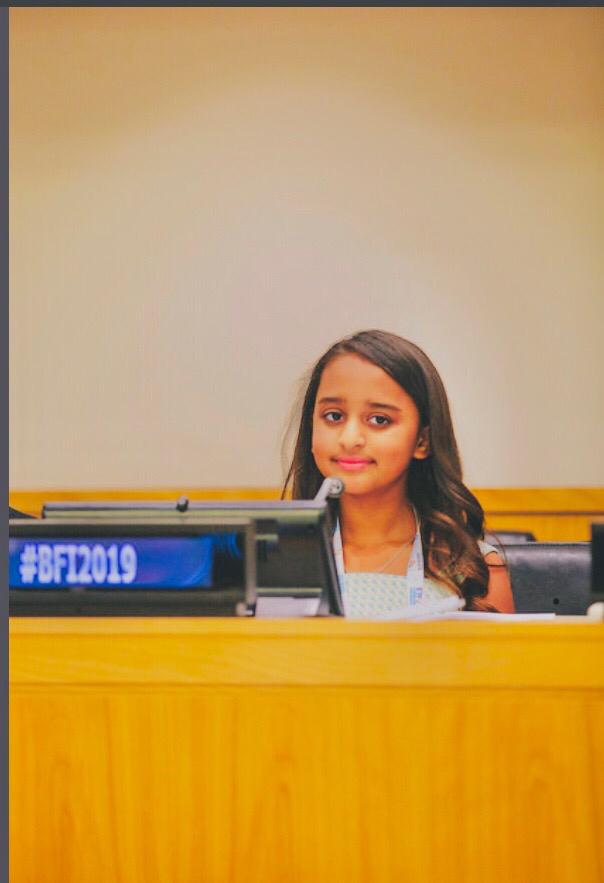 Arya Bhardwaj, preparing to speak at Blockchain For Impact 2019.
BitIRA: What is the biggest challenge you're facing with these efforts?
Anu: I see confidence as a huge barrier to empowering women to enter crypto and blockchain.
As in, they don't have a lot of confidence in their knowledge of the industry. There's a lot of fear, but it's heartbreaking to watch all the men just jumping through the hoops while the women are being super careful and hesitant about even educating themselves.
Women are more skeptical, and this gets worse when they hear the tech talk behind crypto and don't grasp every last detail. The tech component is so over-exaggerated, though; it's not that complicated, but the tech industry has made it sound so complex.
It really doesn't have to be this way. My daughter is 8 years old; she started Krypto for Kids when she was just 7 and already has an iOS and Android app live (under "K4K"). You can download the app in 20 seconds and make your own digital money. We're working to load up some educational games and let people donate their pre-loaded crypto to UN SDG's to fight hunger, poverty, and support various causes currently endorsed by the United Nations and other philanthropic stakeholders.
BitIRA: Where do you see Qrypto Queens in ten years?
Anu: It's all about reaching more people, worldwide, and touching as many lives as we can.
We're partnering with AI initiatives and blockchain initiatives, as well as growing our presence at global events. We have one coming up called Blockchain on the Beach, which is happening this November 22nd through 24th. This year, we're expanding Krypto for Kids at Blockchain on The Beach in Miami, so please stay tuned for more details.
I'm also getting heavily involved with the United Nations after co-chairing the 2019 Blockchain for Impact Summit at the United Nations Headquarters in New York two weeks ago. We are also in deep discussions about partnering with the World Health Organization in Geneva and various programs across the Middle East, Africa, and Latin America.
Qrypto Queens is focused on creating content that's relevant for women and girls getting into the blockchain and cryptocurrency industries, since finance and tech is still male-dominated. We've done events and major conferences, and now we're partnering with mainstream organizations like VentureBeat, the United Nations, various governments and multi-lateral agencies such as the World Health Organization. We've been primarily grassroots, but now heading in the institutional direction.