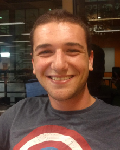 The winner of the BitIRA U Scholarship for October 2019 has been announced. Alexander Lewis, a college freshman from California State Polytechnic University, San Luis Obispo, wrote an essay about what the future of cryptocurrency and blockchain will look like in the next 20 years. Below is the essay that Alexander submitted:
In the next 20 years, cryptocurrency will cause an explosion in the world of microfinance. Microfinance is small loans and services made for individuals who otherwise lack the resources to start or grow their livelihood. One of the pioneers of micro-finance, Muhammed Yunus, created a bank in Bangladesh in 1976 designed for those too poor to get a regular loan. By giving small loans to entrepreneurially minded women, he allowed them to start or grow their own businesses. The bank found that among the impoverished, when they are given a chance they have a remarkable repayment rate of above 98%.
I was introduced to microfinance 7 years ago, when I was 13 through an organization called Kiva. Kiva is an online network connecting those who need capital to people in wealthier countries willing to loan. I raised about 1,500 hundred dollars from my community, family, and friends. The powerful thing about microfinance, is that since then I've been able to perpetually re-loan the same 1,500 multiple times for a total of over 8,000 dollars. These are small amounts compared to the world economy, but now cryptocurrency will change the scale of the game.
Currently, for my loan to reach a farmer in Argentina, it has to take multiple steps. First it goes to Kiva in San Francisco, then it goes to a partner organization in Argentina, who is in charge of disbursing, collecting, and screening loans, and finally it will reach the farmer. Kiva and the loan partner both have operational costs. Even though both are non-profits, they often charge the borrower interest in order to cover their costs.
Of the 1,500 I started with, 1,000 still remains to be lent. This means currently microfinance is clearly unsustainable for the average person. It is a nice thing to do, but not a financial strategy. Cryptocurrency changes this completely.
If the transfer costs of the middle men are eliminated by the use of cryptocurrency, then suddenly the lender is no longer being charitable, they are making an investment. If the farmer in Argentina can pay 6% interest on a small loan, and instead of that whole 6% going towards operational fees, only 1% is used for fees, then the lender still makes 5% back and now it is a significant financial tool. Because the use of cryptocurrency reduced costs, it will be sustainable.
Along with stocks and bonds, diversified accounts of microloans will be common in financial portfolios. Imagine a world, where Goldman Sachs advises its clients to divert a percentage of their portfolios into a fund where their money is split among a thousand microloans to fishermen in South Africa. It could transform a community overnight. Cryptocurrency reduces the cost to a critical point where it becomes financially lucrative for the world to fund the growth of low income communities. This cost reducing effect of a crypto-exchange will create a new financial category and save millions of people from poverty.
Note: For more information on blockchain and cryptocurrency, visit BitIRA U. BitIRA U is a wonderful resource for information pertaining to the many aspects of crypto from regulation to security to societal issues.