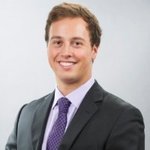 While the winner of the Summer 2018 BitIRA U Scholarship has been announced, there are a couple of honorable mentions that were close contenders for the scholarship. One such essay is by Jordan Newman of the Chicago Medical School at Rosalind Franklin University. Jordan wrote his essay, titled "The Impending Blockchain Revolution", and described how blockchain technology is revolutionizing data transfers in general and also specific industries. Below is the essay that Jordan submitted:
I have only recently decided to explore the world of investment. Before I began medical school, I worked as a lab technician at Northwestern University for a modest pay; I could think of nothing better to do with the tax return that I received that year than opening a brokerage account with E-trade and beginning to learn about the stock market. Due to my background, I'm most familiar with the tech industry, and is reflected in my investments thus far. As I reviewed stocks to purchase, the impossible happened: over the course of two weeks, the price of bitcoin more than doubled from near six thousand to almost twenty thousand dollars a coin. How could this have happened? The answer can be summed up in two words that can describe Bitcoin, as well as cryptocurrency in general: speculative asset. Cryptocurrency is valued based on what experts predict it will accomplish in the future due to the technology associated with it, and not necessarily what it accomplishes right now. How many Amazon purchases have you made using Bitcoin? Its value does not reflect its usage; its value is determined by what we think its usage will be in the future. This is due in large part to two factors: blockchain technology, and currency decentralization, which are the principal reasons for the popularity of cryptocurrency in the public eye, the increase in discussion regarding cryptocurrency in mainstream venues, and my recent purchase of two relatively small cryptocurrencies, Ethereum and Litecoin.
Blockchain is essentially a digital record of transactions that is incorruptible due to the quantity of computers and transactions involved. The network of computers contains algorithms to consistently update the record and its technology, keeping it up to date. Anything in a blockchain is both secure and completely transparent; transactions that occur using a public database will ensure that a clear verifiable record exists. This is the underlying basis of cryptocurrency; Bitcoin is completely valueless and doesn't exist in physical form, so its value is entirely perceived and thus is publicly determined. If an incorruptible record exists for its usage however, that will both set a precedent for what one can purchase with Bitcoin and hold Bitcoin as a secure source. What is truly exciting about the blockchain technology however is that it isn't limited to cryptocurrency exchange; any form of data can theoretically be shared and securely manipulated using this technology. A topical example of what this could entail involves the public distrust of Facebook with private information. If Facebook were to employ blockchain technology for people to use when sharing photos with each other, they could safely know that those photos are both transparent to those they wish to share them with and secure; they would have control on who can and cannot see data they put on the internet. Another example could regard legal documents that could be shared much more effortlessly between interested parties in both a malleable yet secure format. Of course, in America, money talks, so the primary discussion regarding blockchain has been about the transfer of money in the form of cryptocurrency. This obviously has huge implications toward how purchases are made, as if a non-physical currency could be distributed in the form of data between interested parties in a matter of seconds in a secure way, it would change the landscape of traditional economics as we know it; therefore, Bitcoin, Ethereum and other cryptocurrencies are speculative assets. The possibilities here are endless. Cryptocurrencies could become the primary currency of entire countries due to increasing globalism in Western nations; this is especially true for countries that are struggling economically. A company looking to compete with Amazon could decide to only accept a cryptocurrency and offer incentives. An entirely globalized coin could emerge. People, like myself, that buy into what cryptocurrencies are attempting to accomplish are buying into this idea. I am investing not just in the future of economics, but in the future of data transfer.
Why did cryptocurrency become so popular to talk about? People are excited about blockchain technology, but they are also excited about a currency that doesn't have its value determined by a ruling government; this is known as decentralization. The common man can truly determine what the value of a Bitcoin is, and this attracts people to it. Additionally, the common man acts as the functional bank, by allowing his computer to "mine" cryptocurrency, which is allowing the graphics card on one's computer to aid in the network for the blockchain and collecting a small premium. These factors together excited the public for a time. Since late 2017, talk about cryptocurrency has stagnated, as talk about any issue or topic in the public always does. Why are people no longer concerned with the future of data transfer? Once again, in America, money talks, and the price of Bitcoin took a nosedive; it now sits at a little over seven thousand dollars a coin. Cryptocurrencies have been and will likely continue to be an extremely volatile asset, and investors hate volatility. What explains this? Cryptocurrency remains a speculative asset that is heavily impacted by its legality. As more countries determine cryptocurrency to be the future of economics and data transfer and legalize its use, its usage in the public will increase, and its value will increase. My investment is looking at the next twenty years, not the next two months. Why did I invest in Ethereum and not Bitcoin? In my opinion, the blockchain technology incorporated into Ethereum is better than Bitcoin, and thus its future looks brighter. I hope everyone is ready; not since the invent of the smartphone has a technological advancement rocked the world like this one will. The economic landscape of the world will soon change forever, and I'm looking forward to the digital age.
Note: The BitIRA U Scholarship is awarded twice a year (Summer and Winter). The next award will be Winter 2019, and students are encouraged to visit the BitIRA U Scholarship webpage to learn more about the opportunity and apply.